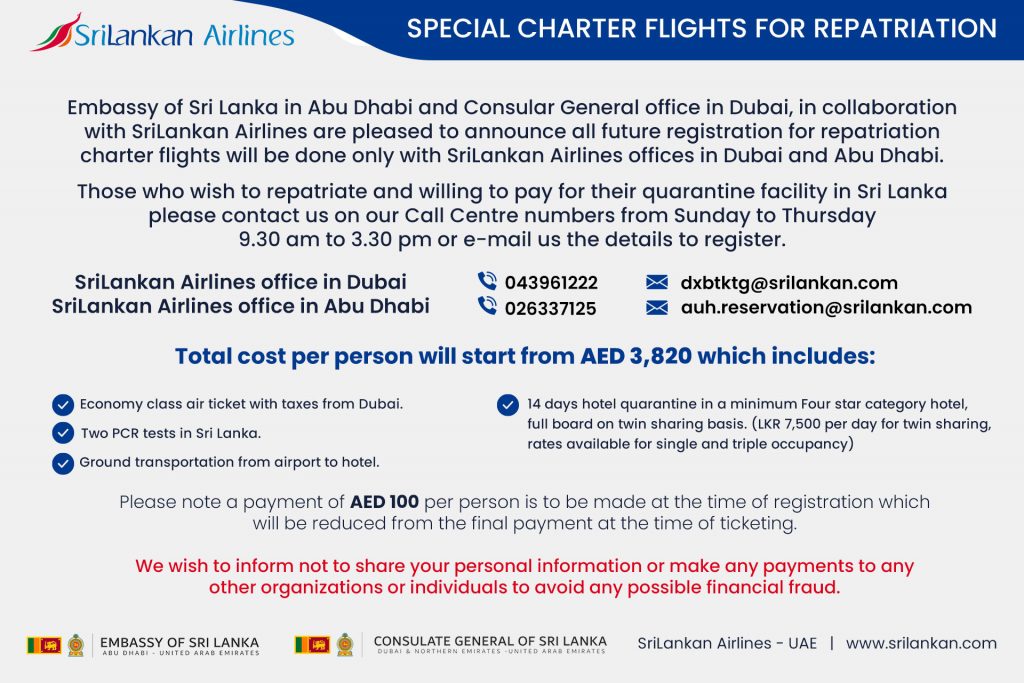 Embassy of Sri Lanka in Abu Dhabi and Consulate General office in Dubai like to clarify regarding the charter flights. Fully paid charter flights are organized in collaboration with SriLankan Airlines to meet the requests made by large companies and individuals who can afford such expenses. This will no way slow down or change our regular repatriation program. Regular flights are scheduled depending on the availability of flights and mainly on vacancies available at GoSL sponsored quarantine centers in Sri Lanka

අබුඩාබි හි ශ්‍රී ලංකා තානාපති කාර්යාලය සහ ඩුබායි කොන්සල් ජෙනරාල්කා ර්යාලය ගුවන් ගමන් (Charter Flights) පිළිබඳ පැහැදිලි කිරීම.ගෙවීම් කරන ලද එවැනි ගුවන් ගමන් ශ්‍රී ලංකන් එයාර්ලයින්ස් සමාගමේ සහයෝගය ඇති ව සංවිධානය කරනු ලබන්නේ විශාල සමාගම් සහ එවැනි වියදම් දැරිය හැකි තනි පුද්ගලයන්ගේ ඉල්ලීම් සපුරාලීම සඳහා ය.
ශ්‍රී ලංකා රජය අනුග්‍රහය දක්වන නිරෝධායන මධ්‍යස්ථානවල ඇති පුරප්පාඩු මත පදනම් ව අපගේ නැවත ශ්‍රී ලංකාවට ගෙන්වා ගැනීමේ නිත්‍ය වැඩසටහන කිසිදු අයුරකින් මන්දගාමී නොවනු ඇත. නැවත ශ්‍රී ලංකාවට ගෙන්වා ගැනීම් අඛණ්ඩ ව සිදු කරන බවට අපි සහතික වන්නෙමු.